I love my hair! But there is so much I have to learn about it!! This is my first time with locs. I thought it would be an easy, carefree (literally "Care Free")hairstyle. Boy was I wrong. Every hair style carries its own set of needs. And I'm learning what my locs need to be the healthiest, best locs they can be.
Saturday, December 6, 2008
...that hair day never happened! then i said, you know what, I'll just do it on Friday night. but Friday was my first day back at work from vacation. because I'm such a night owl, i was all off schedule. so when i got home Friday, i crashed! i intended to take an hour or so nap. i ended up sleeping for FIVE HOURS!! woke up at about 11:30 at night and thought, "there no way in hell I'm gonna start all that stuff for my hair now!" and i have a busy weekend ahead of me, so there'll be no time this weekend. maybe next weekend? oh well. i was really looking forward to curling my hair again.
Wednesday, December 3, 2008
its sooo hard to find hats that fit when you have locs!! so i decided to make my own hat! i loom knit. (i'm actually gonna start another blog all about that,so if you're interested, keep an eye out!) i figured i could just make my own "rasta" hat. its basically a visored beanie with a deep balloon shape. it was a pain in the butt to make the hat, but i won't go into that. basically, i'm pretty please with the end result. its a bit tight! but that's my own fault. i did a really tight stitch at the bottom, which, looking back, i don't know WHY i did that! its huge! but that's a good thing. basically, i want this hat to last me a couple of winter worth of hair growth. i still haven't mastered the art of putting on a rasta hat. it takes me a few minutes of cramming my hair in the hat before i'm ready to go. that can be a pain in the butt, especially when i'm just trying to get out the door! i'm sure there must be an easier and faster way to get this hat on. we'll see. i feel kinda stupid asking people how they get a hat on their head! LOL! anyways, the hat is 20% wool, 80% acrylic. i'm not really worried about it leaving fuzzies in my hair or anything like that. i just need it to loosen up a bit so i can really enjoy wearing it!! i'll probably not sell it or make anymore to sell. it was a real pain to make this hat. i can't even imagine doing it again any time soon. and if i did make another, i would probably sell it for like 25 bucks to make up the cost of the yarn and the time spent, and who would pay 25 dollars for a hat! nobody i know! okay, so here are the pics of my first rasta hat!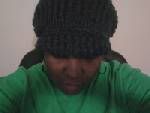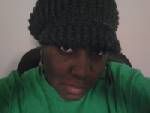 i don't know why this pic is so much bigger than the rest, but, oh well! i look like i have a dinosaur head in this pic, right! LOL!!