my company holiday party was yesterday (late january, you ask? yes, we always do it around this time. apparently its cheaper). we go on a three hour cruise around boston harbor on The Spirit of Boston. free food, free drinks, free guest, free parking! anyways, i got out of work at 4:30 and we had to start boarding by 7:30. three hours is not a long time to get ready when an hour of that time is already eaten up with the commute to my house and the commute to the boat! i ran home, washed and conditioned my hair ( i would have just washed, but this winter air is making my hair sooooo dry! i have to condition almost every time now!) and started to put the loc loops in when i realized that almost an hour had passed and there was no way on God's green earth i would have time to sit under the dryer, pick out my clothes, get dressed, and get the make-up on. so what was i going to do with my hair!! it was wet still with NO time to even consider the dryer. i had to do some sort of style!
so i went to my ever faithful mistress, youtube!! i remembered seeing a vid by one of the ladies i subscribe to. she has micro braids and she did this video on cute ponytail styles. i had to slightly modify her style because my hair is just too bulky and too many different lengths to do the bun she did in the vid, but the criss cross in the front was BANGIN'!!!!
you can find her vid
here
and here is me with the hairstyle. please excuse the quality of the pics, i had to use my phone cause the battery on my camera died
that little glittery thing up top is a jeweled flower pin i stuck in to make sure the locs wrapped around the ponytail didn't unravel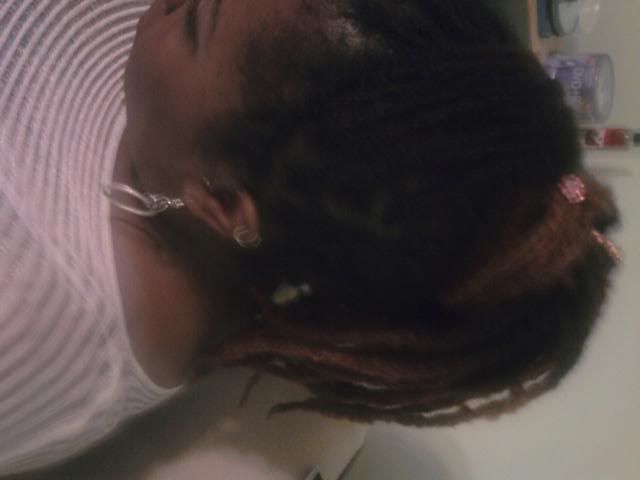 and here's a pic of me in my sister's car, all dolled up on the way to the party!